Jeremy Thrane seems to have everything. As the long-time boyfriend of the handsome (but deeply closeted) movie star Ted Masterson, he lives rent-free in a beautiful apartment on the top floor of Ted's Manhattan brownstone and has an easy job that gives him plenty of time to read books and write his novel. When an influential gossip columnist overhears Jeremy talking about Ted, Jeremy's perfect world begins to crumble: in just a few hours Ted asks him to leave. Although Ted says he needs to spend more time with his wife and daughter, Jeremy suspects another man is involved. With little more than his books, his sprawling manuscript, and his fickle little bird Juanita, Jeremy finds that he needs to re-connect with the eccentric family whose love he has taken for granted, and determine which of his friends have his true well-being in mind. In a dizzying world of art galleries, rock clubs, trendy restaurants, casual sex, dry wit, and drier martinis, Jeremy Thrane must finally figure out what it means to grow up and fall in love.
Available in paperback.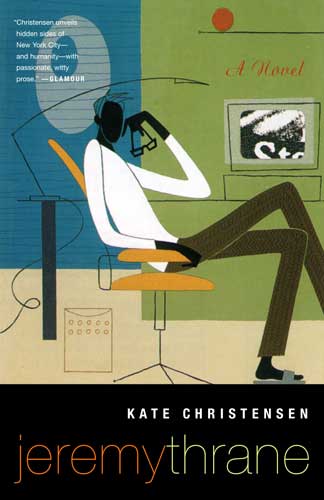 Kate Christensen paints a convincing portrait of a sensitive, modern Manhattanite.
Christensen knows how to capture singlehood in the little things, like listening, with longing and satisfied remove, to your new roommate and his lover chatting. Details like this will keep you hooked.
Delightfully droll and astute.
This is not just another tale about a big-city singleton desperate for a serious relationship; it's about how we go on living, adapting, and working even after our whole world has changed.
This is a contemporary Pilgrim's Progress, Jeremy Thrane is satisfyingly wayward and modern…light, densely populated and full of good will.
Christensen unveils hidden sides of New York City—and humanity—with passionate, witty prose.
A knockout sophomore effort…Christensen's sumptuous prose is both wicked and wise, resulting in a smart, sassy urban tale.
The genre of gay male fiction often serves up amusing but shallow stereotypes, but in this insightful, beautifully written novel, Christensen has created a unique, fully formed, and flawed but likeable man.