Winner of the PEN/Faulkner Award for Fiction
Oscar Feldman, the renowned figurative painter, has passed away. As his obituary notes, Oscar is survived by his wife, Abigail, their son, Ethan, and his sister, the well-known abstract painter Maxine Feldman. What the obituary does not note, however, is that Oscar is also survived by his longtime mistress, Teddy St. Cloud, and their daughters. As two biographers interview the women in an attempt to set the record straight, the open secret of his affair reaches a boiling point and a devastating skeleton threatens to come to light.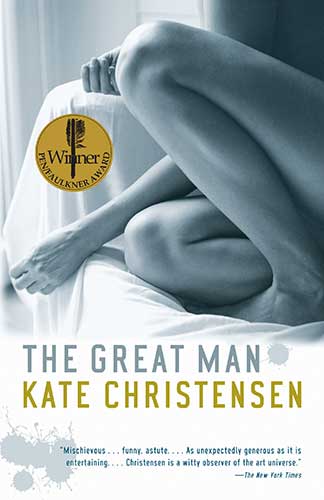 Mischievous…funny, astute…. As unexpectedly generous as it is entertaining…. Christensen is a witty observer of the art universe.
These characters are wonderfully developed and break the stereotype of the aging female protagonist. Christensen…boldly has raised the bar.
Clever and incisive…. The tension between her characters' colorful pasts and the yearning (sexual and otherwise) for their latter days is heartbreaking. But these women brim with a wit and personality that overshadow the cocky artist around whom they've orbited.
Christensen has conjured up such a vivid story (complete with New York Times obituary) of this dead New York painter that even the most avid art buffs might find themselves wondering if they missed something.
Christensen pulls up fresh, funny and touching observations about the pretensions and vulnerabilities of the characters who populate the canvas.
Racy…. Fast-paced and fun.
Presents vital characters who challenge typical depictions of the elderly as so conservative. These women are complicated, smart, witty, and sexy–even Internet savvy!
Kate Christensen is the best kind of writer, because she has both x-ray vision and a warm heart. In gorgeous prose she reveals everything there is to know about the four remarkable women at the heart of this lovely, funny, sexy book.
What works in this book is how mercilessly Christensen lays out the sacrifices each woman makes, the sort of trade-offs that men, especially great men like Oscar, never had to consider.
Kate Christensen's brilliant, big-hearted skewering of greatness, of men, of the Manhattan art scene, of love, reminded me that books can be witty, and heartbreaking, and intelligent, and keep you up too late reading. How rare it is that a writer is talented enough to deliver such varied treasures in one novel, but Christensen manages it effortlessly.
Christensen's writing is clear-eyed, muscular, bitingly funny, and supremely caustic about the niceties of social relations, contemporary American culture, and sexual politics.
Nimble, witty and discerning, Kate Christensen is single-handedly reinvigorating the comedy of manners with her smart and disemboweling novels of misanthropes, cultural and aesthetic divides, private angst, social ambition and appetites run amok.
Reminiscent of that particular breed of novel that can only be weaved and welded by a true artisan: where the setting is discrete yet perfectly suited to the occasion and where the characters jump out of the confines of their hardback dwelling and linger with the reader long after reading has ended.
Provides no shortage of pop-intellectual entertainment…. [A] profoundly feminist story.
In clean, witty prose, Christensen not only tackles the slippery bonds of love and family but also offers a hilarious glimpse into the avant-garde art world and the egos that fuel it.
Christensen is a perfect match for [the] tangled web woven by a single deceiver…. No matter how venal her characters, no matter how cruel and selfish they may be, she loves every damn one of them.
Her picture of three women coping with the indignities and the pleasures of old age is satisfyingly detailed.
The theme of sexuality among septuagenarians in literature is all too rare, and so is finding women in their 70s and 80s who cuss with gusto. But then, The Great Man defies convention…That Christensen, who is in her mid-40s, can so aptly capture not just the loneliness, losses and angst, but also the acceptance, of growing old, is a testament to her tremendous skills.
The prose in this book is stunning; the characters fascinating, endearing, and utterly real. Kate Christensen is, quite simply, one of the finest artists writing today.